What has 2020 taught us
As we move towards the New Year, many people will be glad to put 2020 behind them and to look forward to better times ahead.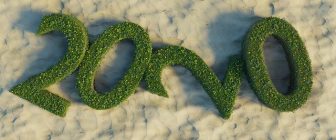 The disruption caused across the globe by Covid-19 has been incredibly damaging to health, mental well-being, education and economic activity and the true consequences will undoubtedly last with us all for many years to come.
With the arrival of a vaccine there is a ray of light at the end of the tunnel in terms of health although the effects on people's well-being may be with us for some time to come. A return to some form of "normality" in terms of being able to go about our lives unfettered by restrictions will clearly be positive and education and economic activity will hopefully start to recover during 2021 and beyond. We have faced pandemics and world wars in the past and have regrouped and moved forward. With today's global economy, higher levels of education and fast-moving technology we should be able to regroup and build more quickly than following previous set-backs.
The UK government has ploughed billions of pounds into trying to protect the economy from the worst aspects of the pandemic but we will be paying the price of such high levels of borrowing for at least a generation ahead.
The UK property market, the driver of so much economic activity, was singled out for special treatment and government intervention has, in the latter half of 2020, created an artificially boosted level of activity. Activity which, as I write, is not certain in its sustainability as the stamp duty holiday which is due to end on 31st March 2021 does not look likely to be extended.
Short term interventions have always risked fuelling boom and bust scenarios and we have seen this before with pre-announced tax changes and stamp duty holidays which have concertinaed activity into designated time frames and have been swiftly followed by significant downturns in activity. The management of the current stamp duty scenario and the future of help to buy will be closely watched by everyone.
There is no doubt in my mind that the pandemic will, in the future, be seen as having been the catalyst for the biggest paradigm shift in the property industry since the emergence of the internet and that there will be significant winners and losers as a result.
Having been locked down in March and facing an unknown future, many businesses started to undertake a root and branch review of their operations and, in particular, their cost bases. In some scenarios simply slashing and burning and in others taking a more considered view.
The four Ps of people, premises, portals and proptech came under scrutiny with a growing emphasis on the further Ps of productivity and proposition and, ultimately, profit.
We saw campaigns against the costs of the major portals, renegotiations with suppliers, the closure of unnecessary premises inventory, a continuing move away from the high street, a reduction in staff and the emergence of greater numbers of self-employed agents operating under the "umbrella" of a parent organisation.
These changes were underway across the industry before the arrival of Covid-19 but with the initial lockdown period having been relatively short for the property profession and business being allowed to continue from the end of May, many of the changes appear to have been side-lined, kicked down the road or allowed to wither on the vine, overtaken by the boost in activity referred to earlier. For many the eighth P – Pivoting – has simply not happened.
The "Say No to Rightmove" campaign generated lots of publicity and, it could be argued, helped persuade the major portals to put in place some short term sops to the agency clients.  It didn't however result in agents leaving Rightmove in droves and the same has been true with the agent numbers at the other major portal players. Indeed, with the announcement of the launch of Boomin' and others, the portal space has become more crowded. The need for agents to review their positions and take positive action has, if anything increased.
The use of virtual viewings was taken up by most agents but, again, many have simply reverted to the way they were pre-lockdown. In my opinion this is a missed opportunity. I now have many clients who have re-engineered their systems and processes around making the use of accompanied virtual viewings their first stage in the sales funnel, saving enormous amounts of time and increasing productivity. The number of subsequent physical viewings needed to agree a deal has reduced in some cases by a factor of four. Key is "accompanying" the viewing not just sending a potential buyer or tenant a link to a pre-recorded video. In this way the agent still builds rapport, gets feedback as they would when meeting face to face.
The use of platforms such as Zoom, Skype and Teams is now embedded in both business and society at large. Used well they can increase communication and increase productivity significantly.
2020 has seen all types of Proptech come to the fore but it remains a fragmented and confusing marketplace. In my opinion, key to maximising the benefits from Proptech is to ensure that it improves productivity by doing the "heavy lifting" through automation; allows access to all stakeholders in the process; "joins up" seamlessly with "best in class" suppliers; enhances the consumer experience; has compliance built in at every stage and produces measurable revenue gains and cost savings. Modular platforms such as teclet (where I am a Director) are leading the way.
The so called "self-employed" estate agency model has gained further traction during the year although the churn amongst individuals is currently high. The dream of having one's own business is attractive to many and the desire for a better "work life" balance obviously appeals. However, the realities of having to both hunt and farm for business and manage all aspects of the operation including being reliant on 100% performance related pay is certainly not for everyone. Compliance risk needs to be well managed too.
Strains on individual's well-being as a result of covid and business pressures has undoubtedly grown during the year and one positive in 2020 has been the creation of Agents Together which is doing great work in mentoring individuals and providing resources on well-being and developing resilience. The collaboration amongst the founder members, trustees and volunteers has laid a foundation and set a benchmark for the way ahead.
So what has 2020 taught us? My top ten is as follows:
That the need for a plan (or plans) has never been more crucial. None of us can change the wind but we can all adjust our sails. Unfortunately, too many businesses simply "chug along" dealing with the day to day and hoping that things will be OK. Because they often don't know their numbers or what they do now well enough, they find it difficult to recognise what actions they can undertake to pivot and bring about positive change. With a plan a business has a documented set of objectives and actions that can be regularly reviewed and, if necessary, adjusted.
There are significant cost savings and productivity gains to be made in all businesses by analysing and then taking strong and positive action. Don't be tempted to take a salami slicing or tinkering approach to your business. Be decisive. Ultimately, revenue is vanity, profit is sanity and cash is king.
Working collaboratively with others can have huge advantages. Don't operate in a silo – use some "joined up" thinking and application to benefit everybody. For example, working with conveyancers to get property's transaction ready when they go on the market and ensuring good access to mortgage funding can all improve the consumer experience and strengthen transactional certainty.
Your suppliers represent your business – do they share your standards and ethos? Review all of your relationships. Some will have been strengthened as a result of the challenges faced, some will not be worth continuing with.
Find the right technology solutions to meet your needs both now and going forward. Look for productivity gains, additional revenue streams, compliance and enhancing consumer experience.
Differentiate – make sure you stand out in a sea of sameness in the industry. Where do you add most value – are you ensuring that your customers and clients recognise it?
The value of referral. Most business will claim that they gain business from recommendation and "word of mouth" but do little to encourage it or to use the power of "social proof" to gain new business. It takes effort but not usually very much budget.
Look after your people. Engage and involve them. Look to give responsibility but with accountability. Be demanding but fair. Be concerned for their well-being – absenteeism is obvious but presenteeism should be a concern as it will inevitably result in poor performance.
Change is all around us and we need to be constantly prepared to take action to adapt. Some things can be actioned quickly but many things will need planning, investment and other resources to be made available. It is easy to underestimate the time required and the effort needed to communicate and implement change successfully.
Don't be afraid. A positive mindset and personal resilience is vital. If you need input or support – seek it out. History is always written by the winners. Make sure that you are writing it!