Data represents a very positive barometer for market recovery and growth
As the housing market quickly shifts gears out of lockdown, Reapit has released a dataset covering 13 weeks of KPI activity on their Agency Cloud platform up until the penultimate week of May.
The data show a number of interesting trends that represent a very positive barometer for market recovery and growth.
From the last week of February (Pre-Covid) the data reveal a drop across the board on key indices which plateaued by the end of the month as the lockdown came into effect on 23 March.
Tracking the data further across sales and lettings from end-February to end-May demonstrates an expected decline in activity across all activity streams, but as seen in the positive week-on-week (WoW) percentage change, recovery is in the wings.
Combined net viewings for sales and lettings are now only -26.36% below pre-Covid levels, whilst combined applicants registrations only have another 10.51% to go before recovering to February numbers.
Reassuringly, combined internet enquries for sales and lettings are 10.63% higher than what was seen at end-February.
An overall positive upturn in growth once restrictions were lifted on 13 May is revealed in the following two weeks, with combined net viewings for sales and lettings increasing by 87%, combined applicants registered increasing by 42%, and combined internet enquries increasing by 8%.
Sales offers, valuations and instructions data also show a strong recovery over the last two weeks of recorded data as buyers and sellers return to the market.
Instructions rose by 88%, Valuations are up 78%, and Sales Offers are back to two-thirds of pre-lockdown levels.
How many of these new instructions relate to prior covid valuations is uncertain, but early indications are that there is a positive return to the housing market.
The sales pipeline is probably one of the most interesting aspects that has been monitored and that is showing resilience, with only a drop of 6.6% of pipeline units pre-Covid.
In terms of lettings, there is an overall 15% increase in rent collection portfolios, indicating many landlords moving the collection of rent to the agents to manage.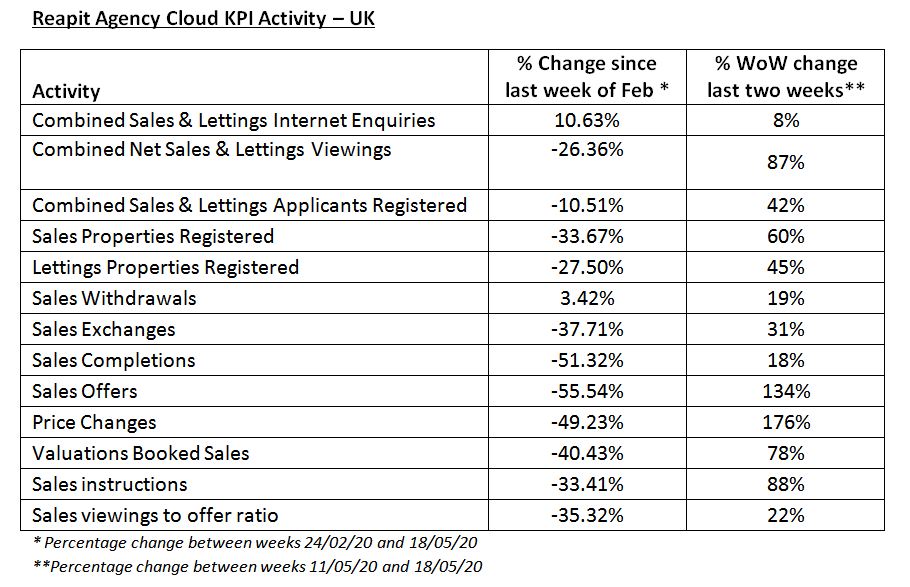 N.B. The Price Changes percentage reflects the percentage of properties in the Reapit system on which there was a price fluctuation. It is not the percentage size of the actual price differences.
Reapit is not alone in noting this upward trajectory in consumer demand.
PropTech firm Coadjute recently revealed a 24% jump in listings just prior to the loosening of restrictions.
The portals OneDome and Nethouseprices, both part of OneDome Group,  say that they're processing up to 4 leads a minute – up from 3 leads per minute in March and 1.7 in January.
Rightmove reported over 6 million visits to its site on May 27th, and previously commented in the wake of the market reopening two weeks ago that enquiries sent to agents by the portal were up 70% within the first four hours of agencies returning to business, with the upward trend already rising before the lockdown was lifted.
On the lettings front, data provided via the Zoopla Rental Index showed a 30% increase in demand for rental homes over the two weeks up to 14 April.
In the final week of April, Chestertons noted a 28% increase in requests to view its properties available for rent.
The first quarterly (Q1) Rental Market Report from Hometrack also shows that the impact of coronavirus on the lettings market has been less pronounced than in the sales market.
There were no mass withdrawels of rental properties listed to let during this period, declining only 3% compared to the 1 March.
Overall, the annual UK rental growth for this period was at 2.4%, up from 1.5% in March last year, further demonstrating the resilience of the lettings market during the pandemic.
Gary Barker, Chief Executive Officer, Reapit, said: "Reapit supports in excess of 30% of the UK's property agency market, so we're pleased to see a widespread pattern of growth and recovery taking place even before the lockdown was lifted.
"These are encouraging signs that the pent-up demand of over 450,000 buyers and renters, some of it pushing as far back as Brexit, is about to be released in the property market.
"Whilst its very early days of agents returning, we are encouraged by these recent trends