Consumers hammering on the virtual doors of estate agents
Consumers desperate to get moving are hammering on the virtual doors of estate agents, with the volumes of new enquiries online rapidly rising above or towards pre-lockdown levels, the latest data from the Yomdel Property Sentiment Tracker (YPST) shows.
For the week ending midnight 3 May, new enquiry volumes from landlords and buyers joined tenants in being well above the 62-week pre-coronavirus lockdown levels, with vendors ending the week not far behind.
Andy Soloman, CEO of Yomdel said:
"There's been an incredible transformation of what was a very traditional sector, as estate agents have embraced digital tools such as virtual viewings and valuations.
"Consumers are very savvy and they are unequivocally saying 'we want to do things differently'.
"The best agents have made lightning quick decisions to discover new ways of doing things, and now we are seeing some agents start to bring back furloughed staff to help cope with rising demand."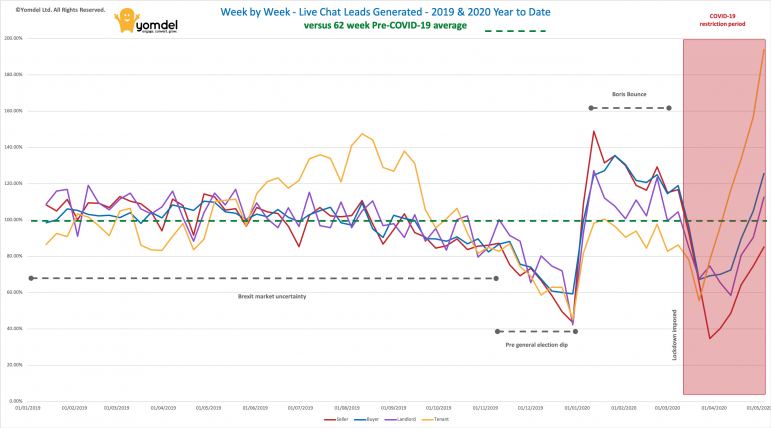 New vendor enquiries rose a further 14.12%, or 10.53 points to 85.13, just 15% behind the pre-COVID-19 average, but up 146% from the low when the lockdown first hit.
Buyers moved further into positive territory, finishing the week at 125.63 points or 25% above the pre-lockdown average.
They were up 19.75% on the previous week, and were rapidly closing in on the 2020 high of 135.63 reached on 26 January.
Landlords pushed back into positive territory for the first time since lockdown, gaining 24.55% to end at 112.62 points, edging closer this year's high of 127.24 reached on 12 January.
Stellar growth in tenant enquiries continued unabated, rising 23.60% to 193.82 points from 156.81 last week.
Tenant demand is now almost double the pre-lockdown 62-week average and 249% above its lockdown low.
"No agent should ignore this data. People are online and seeking immediate support to help them plan their moves.
"As the lockdown eases there will be rapid and immediate significant new business opportunities for those that are ready," Soloman said.
  Email to a friend